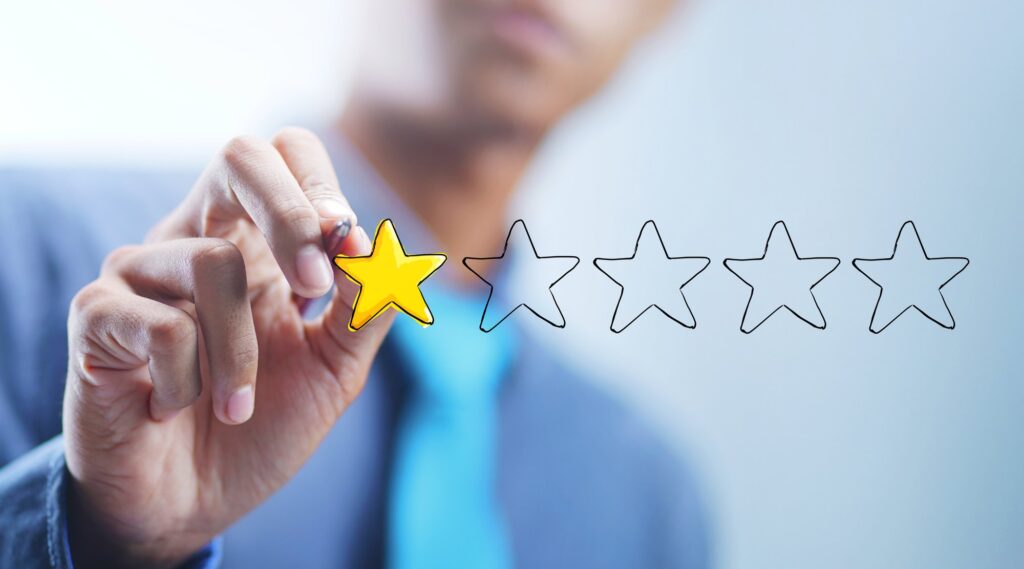 Have you ever gotten a bad review on Google that made you feel upset and unsure about how to reply?

93% of users say that online reviews influence their buying decisions. So when you get a bad review, it's a big deal.

We know how you feel. And we know how to respond in a way that turns a negative review into a positive experience.
In this article, we will explore the effects of a negative Google review. We will help you in assessing the legitimacy of the complaint and offer advice on how to write a polite and helpful response.

There are plenty of ways to solve the problem and avoid more bad reviews. Let's get started!
Understanding the Impact of a Bad Google Review
Understanding the impact of bad Google My Business reviews is crucial to address and manage the situation. A bad review can ruin a business's reputation and push away potential customers. It can create doubt and uncertainty in the minds of consumers, making them hesitant to engage with the company.
People often use online reviews when buying things, so negative reviews can greatly affect sales.
Furthermore, negative reviews can spread fast. Word-of-mouth and social media can amplify their reach and influence.
A bad review is more than a reflection of one customer's experience. It can also shape the perception of the entire business.
To lessen the impact of a negative Google review, you must act quickly and appropriately.
Assess the Validity of the Review
To determine if the review is reliable, check for specific details and examples mentioned in it. Genuine reviews give specific information about the experience or the product/service.
Look for details such as dates, names, locations, or features in the review. See if you can confirm these details. If you can, then the review is more likely to be authentic and should be taken seriously.
Sometimes, people write fake or malicious reviews to harm a business's reputation. Don't let them provoke you.
It is also important to look out for reviews that are suspicious or appear to be fake. Look for signs of malicious intent or if the language used in the review is dramatic.
Additionally, check for consistency in the language used throughout the review. Genuine reviews tend to have a consistent tone and style. Assess the details, examples, and terminology used in the review to make a more informed judgment about its validity.
If there's any doubt about a review's authenticity, it's best to take the time to investigate it further before responding.
Craft a Constructive Response
Once you've established the validity of the review, craft an appropriate response. If you get a negative review, don't waste time or procrastinate. Step up and respond as soon as possible.
Remember, your response is a reflection of your business's values and professionalism. Even if the customer was in the wrong, your response should be respectful.
Here are some tips for writing a professional response.
Begin by thanking the reviewer for their feedback and acknowledging their concerns. Be calm and polite, even if you're upset or frustrated. Keep in mind that your response is for the reviewer and possible customers who may see these types of reviews.
Avoid getting defensive or engaging in an argument. Instead, focus on addressing the issues and offering a solution or explanation.
Repeat their complaint so they know they feel they've been heard and understood. Empathic communication goes a long way in dissolving conflict.
Ask for further details. Understanding the customer's experience helps you improve your service.
The right response can prove your commitment to customer satisfaction. Your goal is to turn a negative experience into a positive one.
Start by investigating the matter and gathering all the facts. Take a deep breath and remain calm; responding in haste can worsen the situation.
Write a thoughtful response that addresses the customer's concerns. Your response should show your commitment to solving the problem. Give a solution, offer something in return, and ask the customer to contact you.
Make sure to track the situation and check in with the customer to make sure they are happy.
Remember, a negative review isn't always a bad thing. It can be an opportunity to showcase your excellent customer service skills.
Take Action to Stop Future Bad Reviews
Take proactive steps to prevent negative business reviews in the first place. Taking action can help stop future bad reviews and mitigate the effects of any existing ones. Here are some tips for preventing negative reviews.
Monitor and respond quickly to feedback and inquiries; customers appreciate fast responses. Set up emails or notifications for potential reviews so you can respond on time.
Set clear service standards and expectations for a better customer experience. Communicate well, keep your promises, and meet your customers' needs. Concentrating on customer happiness and making needed changes goes a long way!
Create a thorough system for customer feedback. Use it to find ways to improve and solve problems on time. Encourage customers to leave reviews on Google Maps and other services. Positive reviews can help counteract negative ones.
And when you do get a negative review, ask yourself if there's anything you can learn from it. You can learn from your customers' reviews and comments to find ways to improve.
Respond Well to a Negative Google Review
If you get a negative Google review, be professional and constructive. Assess its validity first. And then craft a thoughtful response.
Negative reviews can be a learning experience. If your service or product needs improvement, take action and set up preventive measures. Keep in mind that a negative review lets you provide great service and improve the company's reputation.
Looking to upgrade your digital marketing strategy and take control of your online reputation? At Minding My Business, we have the expertise and tools to help you navigate the digital landscape, effectively handle bad reviews, and showcase your business in the best light.
Don't let a negative review dictate your business's narrative. Contact us today and let us help you turn Google Maps reviews into opportunities for growth and improvement.